Space to Learn and Grow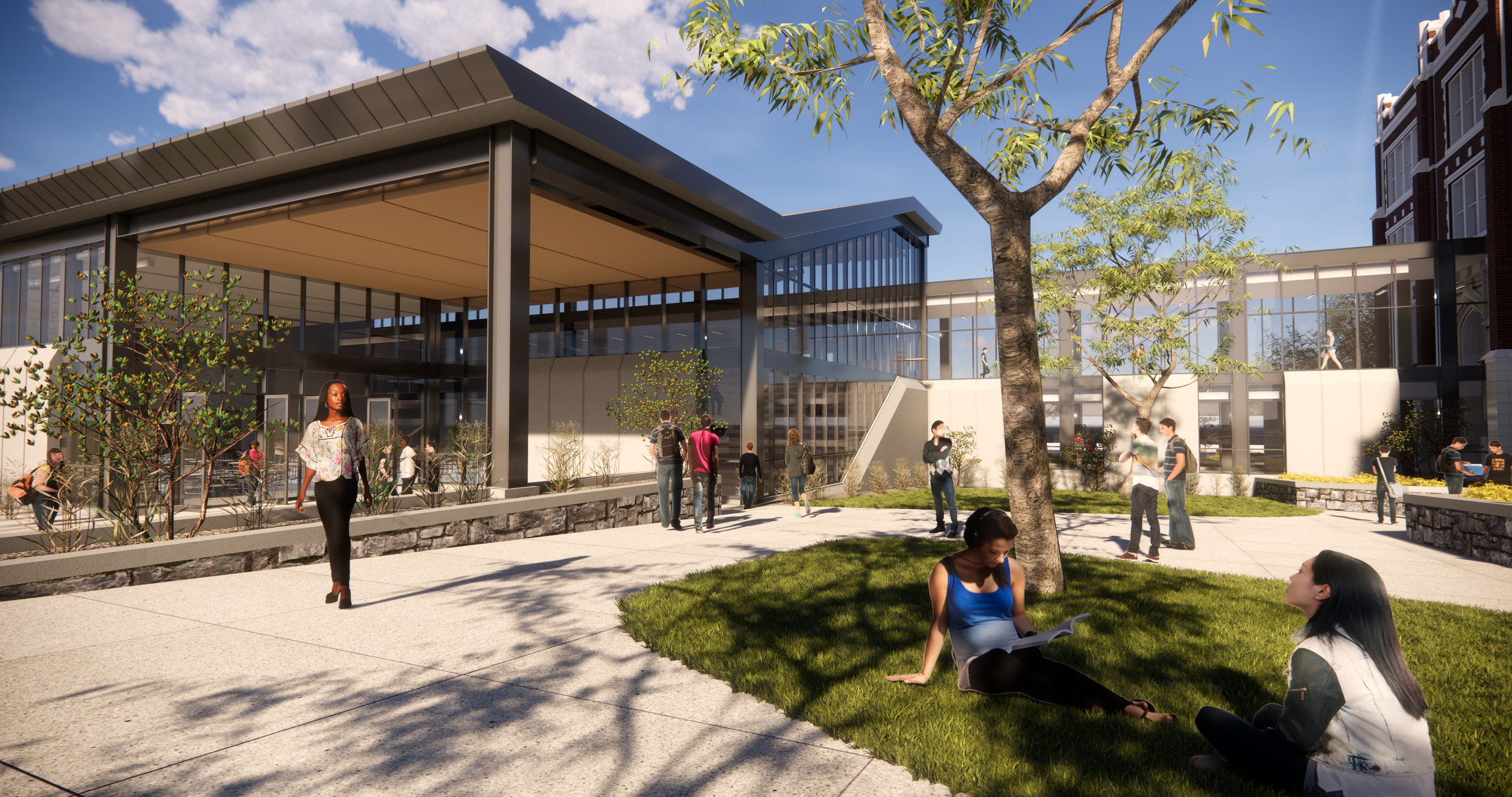 "This community consistently passes bonds and levies, showing they deeply care for education."
Greg Forsyth's roots run deep in Spokane Public Schools.
A graduate of Shadle Park High School in northwest Spokane, he taught math at Lewis & Clark High School downtown, and also at Rogers High School in Hillyard — where his father was a student (and then a teacher) a generation before.
When a 2003 bond passed, Forsyth became deeply involved in a complete renovation of Rogers. As a teacher at the school with a separate business background, he knew how a facility can lead to better learning — and how to help lead a multidisciplinary team to get things done.
He never looked back. A decade and a half later, Forsyth is the Director of Capital Projects and Planning for Spokane Public Schools (SPS). Lately you can find him meeting with partners and community stakeholders, walking the grounds where a new school will soon emerge, or heads down poring over plans at the district office. In November 2018, Spokane voters approved a $495.3 million bond, and with $57.9 million in state matching funds, SPS has a total of $553.2 million to build educational infrastructure for Spokane students. That means Greg and many other people are very busy.
The task list is long: from 2019 to 2023, the district will build three brand new middle schools, create new space for option programs like On Track Academy (alternative tailored learning) and Libby Center (SPS programming for the academically gifted), completely rebuild three existing obsolete middle schools, replace the aging Joe Albi stadium with a smaller multi-use stadium, and build a new commons area at Lewis & Clark High School.
Why all the emphasis on middle school? Aside from the fact that the other grade levels have recently received significant building upgrades, SPS believes they can achieve multiple goals by creating and rebuilding middle schools. By moving 6th graders up to that level, the district plans to reduce class sizes for levels K-3 at the existing elementary school, because more focused attention by teachers at this age is critical for a person's lifelong success as a learner.
But, Forsyth says, "Middle School is also a crucial time, and our teams are working hard to reimagine what middle school can look like. We've found that our students and families have a strong association with their neighborhood elementary and high schools, but for too long this two-year stop at middle school hasn't been as strong in terms of community, ownership, and inclusion. Our design teams believe we can change that."
He points to the fact that middle schoolers are in a very unique season, experiencing more brain development and change than any other time of life after infancy. For the new schools, stakeholders are coming up with design elements that cater to this time of life. Each replacement school will be different, building on the culture of their existing schools: Glover, Sacajawea, and Shaw.
Across the designs is the concept of creating "neighborhoods" — positive, energetic common areas and learning spaces that are proximate for students, cutting down on hallway travel time and building community within a grade level. This is particularly important for sixth graders to feel comfortable and able to learn.
Forsyth is quick to turn the conversation to the voters' generosity and stewardship of the capital funds. "This community consistently passes bonds and levies, showing they deeply care for education," Forsyth says. "This bond passed with 70% approval. We take the opportunity very seriously to rethink middle school, and more broadly, we are looking to create as much bang for the voters' buck as possible, through some really innovative partnerships."
He points to three of these partnerships that are helping the projects move forward in exciting ways. As the city's largest property owner, the City of Spokane itself has been able to provide land exchanges, helping SPS acquire ideal sites for the buildings. The Spokane Public Library System is a citywide partner, and will uniquely share its Hillyard Library branch with the new Shaw Middle School, giving students access to a wealth of additional learning resources and community programs, without needing to coax students to a separate building. Spokane Parks and Recreation is also an ongoing partner: Spokane is an active community, with a packed schedule of rec-league sports, activities, and community events consistently using school spaces after hours. While the design teams are creating the spaces with students in mind first, so they are also being built with the whole community in mind.
These are busy days for SPS Capital Projects and Planning staff as they move forward on safe, effective facilities that bring to life creative input from students, parents, citizens, educators, and building industry partners. But with the right mix of engagement, partnership, and fresh, research-informed imagination, these full days will lead to many decades of student success in Spokane.